Get ready for our next Jammie Class....

This is a new "new twist" on a timeless technique and we are sure you are going to love it!
Pre-requisite: Glitter Glitz on Art Acetate
The class will air right here on Febraury 1, 2012 at 7:30 a.m.

Can't make it at that time?
No worries – the "Jammie Classes" will be archived for viewing at your leisure.
The Supplies you will need are:
Crystal Lacquer (Sakura) or other clear drying glue
Scissors
Bone Folder
Coffee Filters
Ribbon
Pattern (included in Class Kit and will be available for download when class opens)
Cardstock, Liner, and Envelopes
Don't have all of the supplies needed?

You can purchase the Standard or Upgraded Class Kit (while supplies last) at the P K Glitz store.
You can also visit one of our Fine Stores and ask if they carry the
P K Glitz Class Kits
.

Grab our "Jammie Class" button to let your friends know where you will be!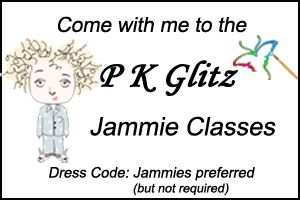 Mark your calendar and we'll see you in class – and don't forget your "Jammies"!
Pin It